From the very beginning our garden centre has been a key part of The Barn. Over the years it has undergone continued development and the most recent revamp has proved huge success. Whether it's colour, hight or shrubs you can be sure to find it here.
We continue to expand our much-loved range of herbaceous perennials, perfect for adding colour and interest to your garden for years to come.
Ever popular seasonal bedding plants help you to create your own stunning hanging baskets and planters. Or you can choose from one of our pre planted designs, incorporating plant combinations thoughtfully put together by our garden team.
A wide range of roses are also available, including 'special occasion' varieties. Perfect as a gift or to mark a family event. Our newly established shrubs and climbing plant collection keeps on growing, with varieties to suit a wide range of conditions.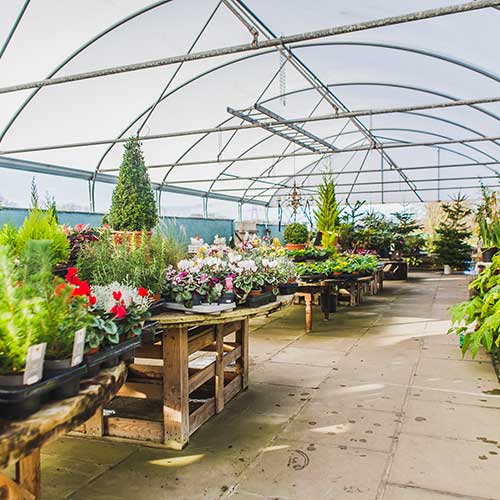 Love to grow your own fruit? We have a great range of fruiting trees, along with currants, raspberries, gooseberries, rhubarb and much more. This creates the perfect family activity leaving memories for years to come.
We also stock ornamental trees, including garden favourites, cherry, crab apple, and rowan.
Visit us in the festive season for our wide selection of homemade wreaths, Christmas planters and Norman cut Christmas trees. The festive aroma makes for the perfect trip to get you in the festive feels.
On your way into the gift shop be sure to check out our ever-changing stock of indoor plants allowing you to bring the outdoors in and make your home feel that bit healthier.
Our friendly team are always here answer your gardening questions and support you in achieving your perfect garden. All our garden centre team are highly trained with wide-ranging practical experience. They are always approachable and keen to help with the selection of plants or gardening equipment.